Price:
£594.95
Ex Tax: £495.79
Product Code:
Record Power BS300E Premium Bandsaw
Delivery Charge:
£
Weight:
80.00 kg
Size (LxWxH):
88.00 cm x 68.00 cm x 169.00 cm
(
0
/5)
0 reviews
Write a review
Record Power BS300E Bandsaw
TOP QUALITY 1/4" AND 1/2" BANDSAW BLADES SUPPLIED FREE OF CHARGE WITH EVERY ORDER - WORTH OVER £20.00
Includes:
RPDVD01 Bandsaw Masterclass DVD with Alan Holtham
RRP £12.99
The BS300E is a great all rounder perfectly specified for the medium sized workshop where a range of duties will be required.
Featuring a solid fence, vital for accurate ripping, which has a heavy extrusion mounted on a cast iron base and fixed to a solid steel bar for maximum rigidity and support. This is based on an industrial Startrite design and much more solid than other fences at this level. The machine also features a solid double trunnion fence mount to provide rigid table support and one-handed table tilt on a smooth rack and pinion. Adding to the structural integrity of the BS300E are the cast iron bandwheels which are fitted with precision ground rubber tyres to provide a flywheel effect for smooth cutting. A solid blade tension indicator is fitted to the rear of the machine to allow for easy setup. Microswitches are fitted top and bottom for added safety, cutting power to the machine if the doors are opened.The BS300E is also supplied with a basic wheelkit as standard.
Blade Tension Indicator Is situated on the rear of the machine.
Industrial Style Fence This high quality fence features a heavy extrusion mounted on a cast iron base, which moves along a solid steel bar. This provides exceptional strength and accuracy and is easily locked with the brass screw and handle.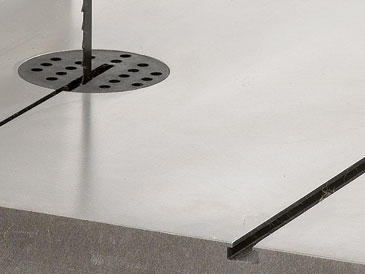 Large Cast Iron Table Provides a strong and steady work area to support large workpieces. Finely ground finish enables effortless movement of the timber.
Cast Iron Band Wheels
Are dynamically balanced and provide a flywheel effect for improved cutting performance. Rubber tyres are precision ground for easy blade fitting and smooth drive.
Tracking System
Easy blade tracking to give accurate positioning of blade
Toolpost Support
Features jacking screws for easy adjustment.
Accurate and Easy to Use Blade Guides
Blade guides need accurately setting if they are to be of any use – so easy access and adjustment are a must. Our guides, similar to those found on industrial machines, give good quality adjustment with minimal need for tools.
Trunnion
Solid double trunnion table mount for rigid table support featuring one handed rack and pinion table tilt for ease of use and accuracy. Mounted on top of bandwheel box with jacking screws for easy adjustment.
Bandsaw Masterclass DVD Included
Presented by Alan Holtham, this indispensable DVD gives a thorough and comprehensive introduction to bandsaw use, setup, maintenance and blade choice.
Pedal Wheel Kit:

Jockey Bar Wheel Kit:

Tilting Table:

Integral Legstand:

Integral Standard Wheel Kit:

Cast Iron Table:

Cast Iron Band Wheels:

Mitre Fence Included:

Cam-Action Tensioner:

Two Speeds:

Maximum Depth of Cut: 190 mm
Table Height from Floor: 990 mm
Blade Width Capacity: 1/4 - 3/4"
Blade Speed: 820 & 380 M / minute
Extraction Port Diameter: 100 mm
Size: H1690 x W880 x D680 mm
Bandsaws
Motor Power
1 Horse Power
Blade Speed
380 & 820 M/MIN
Blade Length
93.1/4"
Blade Width
6 - 20 MM
Max Width of Cut
305 MM
Max Cutting Depth
190 MM
Table Size
480 X 400 MM
Table Tilt
0 - 45 degrees
Table Height
990 MM
Wheel Diameter
300 MM
Extraction Outlet
100 MM
Weight
80 KG
Write a review
Note:
HTML is not translated!