Description
Mafell EVA150E Orbital Disk Sander
The EVA 150 E is the random orbital sander of choice for a high removal rate, a clean working environment, and outstanding work outcomes. An excellent finish is produced on all types of wood and board, as well as paint and other coatings, drywall adhesive and similar fillers.
​
It offers a 20 percent higher speed than conventional random orbital sanders, which appreciably increases the removal rate. As a result, given the same quality of surface, you can perform the work up to 20 percent quicker and ultimately save costs.

​
​
The new random orbital sander from MAFELL is also ideal for continuous operation. With a vibration emission value of less than 2.5 m/s², the EVA 150 E can be operated more or less without interruption. Soft grip surfaces ensure good control of the sander in every working position and give the machine a satisfying and secure "feel".
​
Benefits
Absorbers isolate the main parts of the machine that are held by hand, so that vibration generated by the sander is not transmitted to the user. This protects the user against a health hazard and makes working with the machine more pleasant.

Thanks to the ergonomic auxiliary handle, the user can accurately guide the EVA 150 E with both hands, no matter what the sanding task. The handle can be detached when it is not required.

Adjustable edge protection effectively avoids damage to both the workpiece and the sanding pad of the EVA 150 E.

In combination with the multi-perforated sanding pad, powerful self-extraction creates a low-dust and safe working environment. As a consequence, the abrasive disc is less prone to clogging, disc life is prolonged, and work outcomes are improved.
​
Applications
Coarse and fine sanding

Sanding between coats

Flat surfaces

Curved surfaces

Compatible materials include boards, solid wood, paint, drywall adhesive, veneered surfaces
​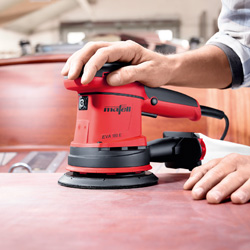 For fine sanding and when sanding between coats, a stroke of 3 mm makes the EVA 150 E/3 particularly adept.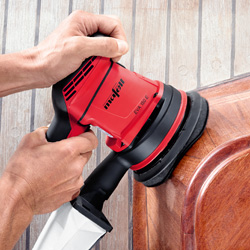 The compensating soft interface pad enables you to produce an outstanding finish on concave and convex surfaces. The foamed material smoothes out any unevenness and ensures consistent sanding outcomes.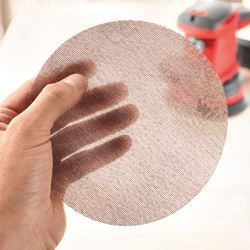 Abranet® abrasive mesh is setting new standards. Around 24,000 perforations in the sanding disc facilitate extremely efficient dust extraction. Among the other benefits are a prolonged disc service life.
Includes;
1 Universal filter bag UFB-1

1 Set of Abranet® abrasive mesh discs consisting of: 1 x HD P 60 / P 80 / P 100 / P 120 / P 150 / P 180 / P 240 / P 320

1 Soft sanding pad

1 EVA-SA interface pad

1 Auxiliary handle

1 Edge guard

1 Mains cable 4 m (13.1

ft
​Technical Specs;
Sanding disk area Ø 150 mm
Nominal No. of strokes – no load 6000-12000 1/min
Nominal power input 350 W
Weight 2,1 kg
Vibration < 2.5 m/s2
Universal motor 230 V / 50 Hz
Sanding stroke 3 mm